As of Nov 12 I'm discontinuing all my public UI work. Update 5 has been added to complete and round off the project. Details in post #24
Welcome to the Fallen Earth UI modding guide! Its attempt will be to provide a complete reference for the aspiring UI modder. Now I'm writing this up as i go along and trying my best to test all assumptions i make (exceptions will be labeled as such), HOWEVER due to a rather complex behavior of the different UI elements there are bound to be errors and misconceptions in here. If you find any of those or know something i don't (or have not covered in here) please post a reply or fire off a PM.
There may be a few entries in the guide erroneously reffering to "WMM" files. Please note that those do not exist and should be "WWM"s
(Major updates listed below; minor updates, corrections and additions will be made when the need arises)
Update 1: Typos, added Chapter "Breaking the mold"
Update 2: Chapter "Outside the box"
Update 3: Chapter "Eeeeewwwie, gui", added radar section and found a stack more limitations
Update 4: Completely mapped grfx_game.tga, edited for opinions
Update 5 (final):
Expanded the first chapter to include all available files
Added chapter: "Miscellaneous things" and mapped grfx_mail.tga
Rebuilt grfx_gui map to include significantly more detail and included links to high res pictures of all maps
Added a significant amount of color to the text in the guide, which should help making it more read-able
Added community links section
Added one of my concept screenshots to the suggestion section including 120ish different concepts
Updated multiple chapters with the latest of my findings
Index
Getting started
Introduction to file structure and icon map
What's with all that talk about that "windi" file?
Wnd.ini breakdown
Breaking the mold
Tutorial on custom shapes
Outside the box
Advanced modding features like transparency and radar
Eeeeewwwie, gui!
grfx_gui.tga breakdown
Miscellaneous things
all the little items
Limitations, restrictions and possible workarounds
Things you should be able to do... but can't. Really a must-read before modding
Suggestions/Ideas
Want something implemented? Add it to the wish list!
FAQ
Frequently asked questions here
UI creations and discussions
Your fellow FallenEarthers have been buuuusy...
1. Getting started
All skins are located in the "Skins" folder within the Fallen Earth directory (install paths may vary). By default you will find the following 6 files:
grfx_game.tga contains primarily the player and mount vitals/stats, as well as radar elements
grfx_game.wwm is a "map" file detailing the coordinates and sizes of UI elements within the grfx_game TGA file, editable with any text editor (See picture below)
grfx_gui.tga contains target health bars, window elements (frames and icons), the entire menu bar, backdrops for inventory/hotbars as well as other miscellaneous buttons
grfx_gui.wwm the equivalent of the game.wwm file, except dealing with the grfx_gui.tga elements
grfx_gear.tga includes the gear/weaponry paper doll screens in their male/female variations
wnd.ini details the positions of UI elements as they appear within the game (details further down)
But wait! There's more! If you call now... So in addition to the above list, things can get a tad more complex. If you open your "default" skin, you'll discover quite a few more .TGAs and .WWMs. You can add (copy) any of these files to your project skin folder and modify them (to a degree) as well. Let's take a looksie:
bk.jpg Once in a blue moon the launcher will have a hiccups and route you through the in-game login as well. This is the first image you see. This one is for login/password only. Also note that this is no longer a TGA for whatever reason
bk1.jpg The image following "bk". This one contains patch notes and the server selection screen.
grfx_faction.tga contains the faction wheel, 6 logos, gaction labels and the reputation bars
grfx_faction.wwm the wwm map for the grfx_faction.tga textures
grfx_lobby.tga Buttons and borders used with the "bk"s backgrounds
grfx_lobby.wwm the wwm map for the grfx_lobby.tga textures
grfx_lobbychar.tga Buttons and borders used within the character selection/creation screen
grfx_lobbychar.wwm the wwm map for the grfx_lobbychar.tga textures
grfx_mail.tga This one includes mail icons and buttons, attributes screen icons, icons for the crafting categories (also used for crafting facilities on the map) as well as the minimap faction symbols that appear in confict town and for certain town events.
grfx_mail.wwm the wwm map for the grfx_mail.tga textures
grfx_radarmask.tga The radar mask, in theory this would allow a modder to change the shape of the minimap. (The displayed viewing area limits are hardcoded and unchangeable) I say "in theory", as it's currently not functioning properly. Also note that it doesn't have its own wwm file but is rather defined in grfx_game.wwm
Pictures being worth more than words, here's a quick and dirty PowerPoint illustrating the relationship between .WWMs and .TGAs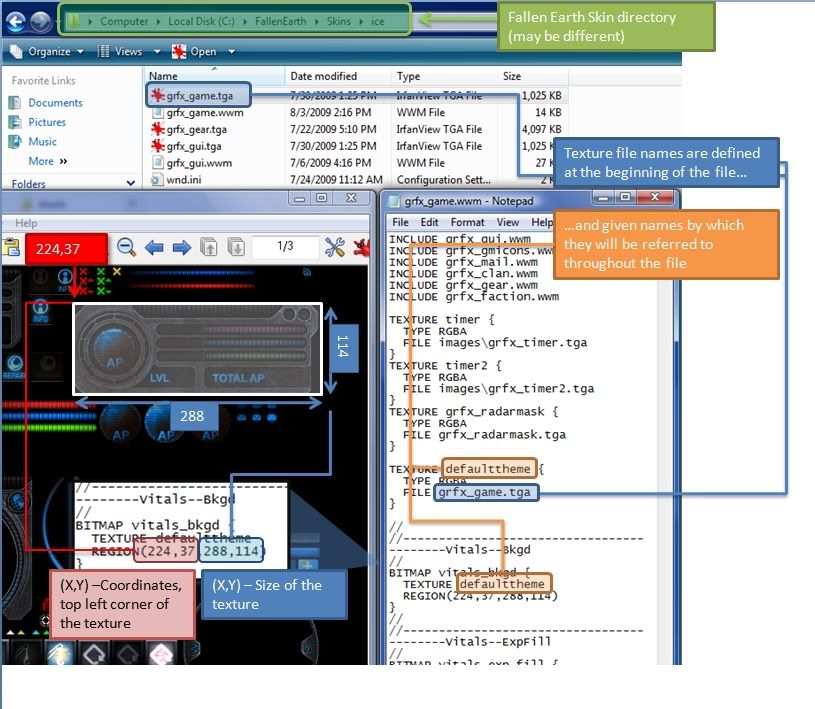 As you can see in the picture it is also possible to create custom TGAs and define their names as well. This is
strongly recommended if you're planning on messing with the shapes and general layout. Just create a copy
of the existing TGA, rename to liking, clear all content and alpha channel and start anew! (Credit goes to Edell for sharing the custom TGA info with the community)
Please take paragraph with a grain of salt at the moment as one of the limitations (last one listed) is messing up integration of multiple TGAs. For the time being feel free to use and abuse them for the vitals/mount/radar/buttons areas. Be carefull with radar icons.
Use the 1MB 512x512 tga files for copies and keep them the exact same X by Y size as the originals. I have attempted to use individual small files for the UI with very little luck. So save yourself the headaches and use the right size from the start!
(For example the vitals area highlighted in the picture above becomes an interesting mess when used in an individual file (with the exact same sizes/alpha map)
I'm lost! Heeeelp!
"But, Nads!" you ask "There are soooooo many items in those files! How am I supposed to know what they mean inside the game?!"
Simple! You use a map! Lucky for you I have a copy around! (a breakdown of the gui file is in a later chapter) (It's HUGE, had to condense it all and have only so many precious slots)
Special thanks to Zalum, meph504 and flora for their assistance
[img]http://i570.photobucket.com/albums/ss150/AnnaDea/grfx_game_breakdown_small.jpg
Enjoy!